February 9, 2013: Eastern Idaho Assembly for the Arts

Art organizations from all over Eastern Idaho assembled at Idaho Art Lab in St. Anthony on Saturday, February 9, 2013. This event provided art organizations and elected officials a fun, informative way to see, first-hand, how an emphasis on Arts & Culture can have a great effect on our rural Idaho communities. Other art events were planned for this weekend and the Assembly was planned to coincide with the St. Anthony Winterfest.

Using the small town of St. Anthony as an example, participants learned how Arts & Culture stimulate the economy, inspire a new generation of creative, entrepreneurial minded children and provide great benefits to the many under-privileged and under-served members of our communities.

Speakers were:
Tom Bennett (Director of Arts For Idaho)
Michael Faison (Director, Idaho Commission on the Arts)
Tom Cluff (Fremont County Economic Development Manager)
Daniel & Kara Hidalgo (Co-Founders of Idaho Art Lab)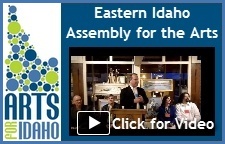 Click on image to view video of speakers from 2012
Our goal with this Assembly was to leave elected officials with the information they need to discuss Arts & the Humanities with their constituents, being able to back up their support of the Arts with solid data and personal experiences.
For a link to the schedule, click